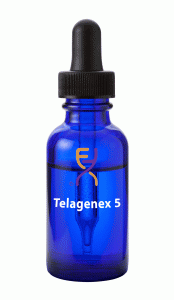 Having been taken orally for thousands of years for its health benefits, this amazing plant extract is now available as a topical application due to the dedicated work of Fybrands Corp. scientists.

Telagenex 5 TM is an all-natural pure molecule derived from the reduction of several tons of plant material (genus astragalus membranacus) and delivered topically in an oil base by our proprietary patent pending technology.

HPLC tested for consistent high purity levels, Telagenex 5 TM defines a state-of-the-art active ingredient formatted to be directly applied to the skin, hair, and nail. It is therefore one of the most sought-after beauty industry technologies in the world.

Marketing organizations and other licensees of Fybrands Corp. have achieved great success by providing the consumer a unique blend of an oil based technology that truly benefits its users. The consumer uses Telagenex 5 TM, notices it's great benefits, and reorders. A marketers dream!